Food Network celebrities Patrick (Pat) and Gina Neely are successful examples of hard work, a great opportunity and strong business savvy.
The restaurateurs operate family-run barbecue restaurants in Tennessee. The restaurants have been open for a combined 46 years. On July 13, 2011, partnering with Merchants Hospitality, Inc., Pat and Gina will bring authentic barbecue to New York City when they open their new restaurant, Neely's Barbecue Parlor.
The Neelys have always been an integral part of their hometown Memphis serving on various boards and commissions. They are noted for their generosity and commitment to the Mid-South community.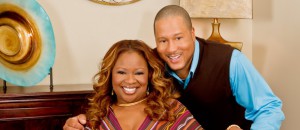 On ­­ August 15, 2006, the Neelys' lives changed forever. It was that day that Follow Productions, the highly successful production company that found and produced Food Network television superstar Paula Deen, filmed a show with the Deen Brothers at the Neelys' restaurant in Nashville. The Food Network show Road Tasted was to feature Pat cooking Neely's signature BBQ for Bobby and Jamie Deen to enjoy. Recognizing that this couple radiated on-camera magic, Follow Productions Executive Producer Mark Schneider urged Gina and Pat to consider developing their own show.
Follow Productions Gordon Elliott and Mark Schneider were convinced that the Neelys had the star quality that Food Network needed to tap into a diverse market of viewers and grow market share. They worked with the Neelys over several months, inviting them to appear on Paula's Home Cooking in June 2007 and Paula's Party in June 2007 and May 2008.
National television stars were immediately born when TVFN agreed with Follow's assessment and gave the Neelys their own series Down Home with the Neelys. The show premiered as the highest-rated show in the history of the Saturday morning kitchen block. It continues to be one of Food Network's highest-rated shows. In addition to the 11/10C am Saturday morning time slot, Food Network also gave the Neelys the highly coveted 5:30/4:30C pm Monday through Friday slot, following Ina Garten's Barefoot Contessa and providing the lead-in for Paula Deen and Rachael Ray. The Neelys' show is also the highest-rated show in the TVFN afternoon.
Now on seven times a week with an estimated 5 million people watching them each week, the Neelys are clearly following the path to superstardom that made Emeril Lagasse, Paula Deen and Rachael Ray famous. Food Network has featured the Neelys on primetime shows, including Chefography, Road Tasted with the Neelys, Best Thing I Ever Ate, Next Food Network Star, Dear Food Network and others.
In 2010, Pat and Gina entered into a multi-year agreement with Kraft Foods North America to endorse Kraft's wide range of food and beverage products. The first campaign launched in the Fall with its largest branded initiative to fight hunger in America. Huddle to Fight Hunger is an integrated campaign designed to give 20 million meals or more to Feeding America, the nation's leading hunger relief organization. The program combined three things Americans are passionate about–football, food and helping others. To reach the end zone, Kraft Foods partnered with Pat and Gina to champion the cause.
With a strong business foundation, Gina and Pat were able to diversify their interest and continue to build on a successful brand by writing a best-selling cookbook, Down Home with the Neelys, which spent several weeks on the New York Times bestseller list. A second cookbook is in the works with the prestigious publisher Knopf that has worked with such highly successful chef-authors as Lidia Bastianich and Julia Child.
The Neelys' star quality has made them highly sought after for media interviews with major media outlets and programs; they have appeared on The View, Live with Regis & Kelly, The Today Show, Good Morning America, the Rachael Ray Show, Wendy Williams, the Mo'Nique Show, an episode of Tyler Perry's Meet the Browns, QVC and The Tom Joyner Morning Show. In print, the Neelys have been featured in The Wall Street Journal, People magazine, USA Today, Food Network magazine and Sam's Club magazines, among many others. In 2009, the Neelys went on a multi-city book tour and signed thousands of books for dedicated fans, while participating in multiple media interviews­.
Pat and Gina have taken part in various live appearances including the Food Network Wine and Food Festival in New York City, South Beach and Nashville; Metropolitan Cooking and Entertaining Shows in West Palm Beach, Atlanta and DC; and Foxwoods Celebrity Chef Sundays, where they appeared in front of huge crowds of enthusiastic fans. In the fall of 2010, the Neelys debuted their live show, Neelys Live!, a live cooking demonstration featuring, singing, dancing and a 7-piece band, at Harrah's in Tunica, MS.
Down Home with the Neelys airs: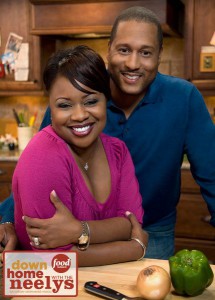 Tuesdays 10am/9am cst.
Saturdays at 9am/8am cst.
If you have to miss the show, please remember to set your TIVO to record us.